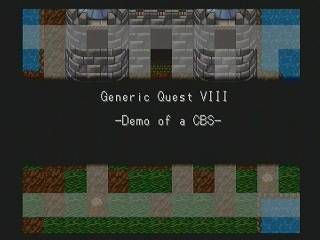 Generic Quest 8
is an RPG featuring a turn-based custom battle system on RPG Maker 1. CBSs are hard to come by on this Maker, as it's a rather limited game creation tool, having originally released in Japan in 1997. But a rather bored Lantis felt like tinkering with RPGM1, with this being the result, and he asked me to take a look at it. I wound up playing the game for the
premiere
of my 7th season of let's plays. Was it an impressive way to begin the new season, or was Lantis in way over his head when he created this? Let's find out.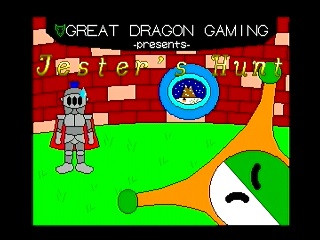 Jester's Hunt
is a collect-a-thon adventure inspired by Banjo-Kazooie, and was released for RPG Maker 1 back in August 2003. Also, I made it. Is it weird for me to review my own game? Maybe. But after what I did to the game in my recent
let's play
of it, it's probably safe to say that this is
not
going to be a biased review.


A user on youtube named
Leonomai
just posted a video showcasing custom music in RPG Maker 2. Draygone posted on the Mag with this information:
Draygone wrote:
This is pretty significant, considering RPGM2 doesn't have a music editor or importer. All it has is a group of instrumental sound effects.
The video itself is after the jump. The music sounds pretty damn good and feels like it's always been a part of the game. RPG Maker 2 is truly a beast.


Siren's Reef is the direct sequel to the early RPG Maker 3 hit, Whispers in the Woods. It took nearly 3 years to get this game out and, for the most part, Siren's Reef delivers another glorious helping of Vonwert's signature well-developed storylines and puzzle gameplay. The game is one of the most ambitious ones developed for the system, too, with multiple endings and paths through the game.


Sat down and played this game over two days. It was a big enough success that I played it right till the end. Having the battles balanced was a major step in this, though I am very tired of RPG Maker battles. The plot was even fun to which helped a lot! I knew that this was one of the early games and was very well done.