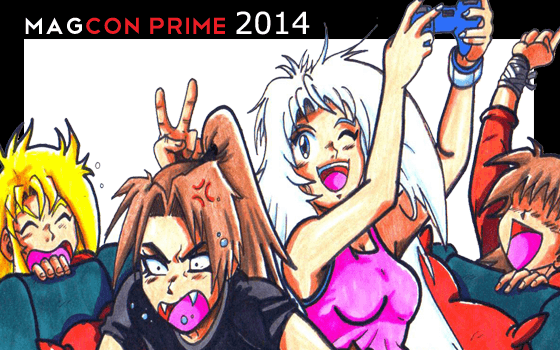 This is your stop for all things MagCon Prime 2014!
Date
March 13-16, 2014
MagCon Prime 2014 Schedule
http://www.rpgmmag.com/magcon/2014/magcon_2014_schedule.pdf
We will be live-streaming via Google Hangout (likely) or Twitch (possibly) or some other form of streaming service during the times indicated on this schedule. You will be able to interact with us on our wonderful vacation!
More after the jump.


MagCon Prime 2014 has been officially announced! This is our 7th MagCon Prime (8 MagCons in total when we count MagCon West) and we couldn't be happier about it!
We're a little later than usual getting this information up, but it's still all good. All the details for this convention are listed after the bump.


RPGM Magazine will soon have surpassed a decade in operation. Thanks to all those who have stuck through all this time and continue to be active in our community. We never would have made it this long without you!
There's a chat party happening on Friday, January 31, 2014 starting at 8pm CST/9pm EST in...the chat! If you have an account, all you do it hit the chat button at the top.
More after the jump!


Welcome to the final chapter of the series designed to introduce people to the general concepts of the new RPGMM! This time, it's Imagine!
If you need a step-by-step breakdown of how to use the tools, please see the
Site FAQ
.